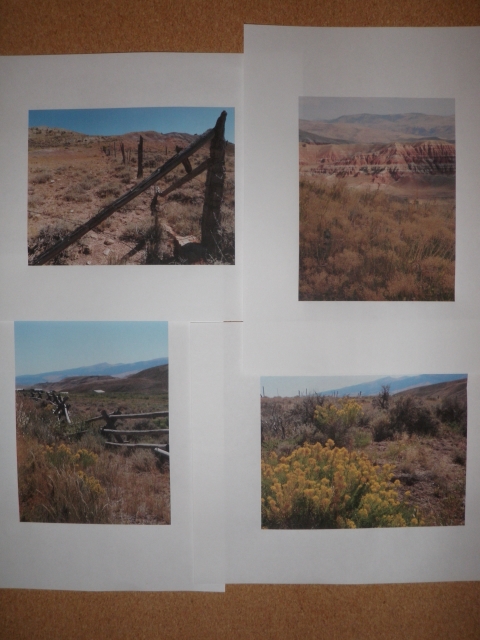 Step 0
These four photos that I took in the Badlands of Wyoming were the basic inspiration for this small quilt.
Step 1
I start with a piece of cotton batting carefully smoothed over some printed backing fabric of the same size.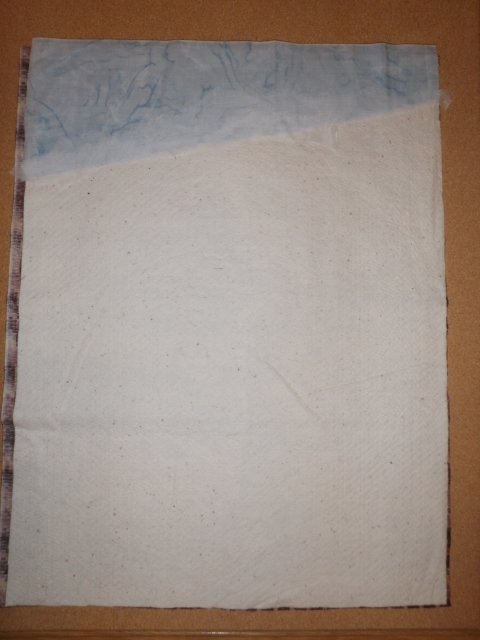 Step 2
With this fabric collage technique I work like a painter, putting in a wash for the sky as my first step. My wash is actually a piece of fabric. The sky isn't too important in this piece, so I just left it alone without any additions of other fabrics.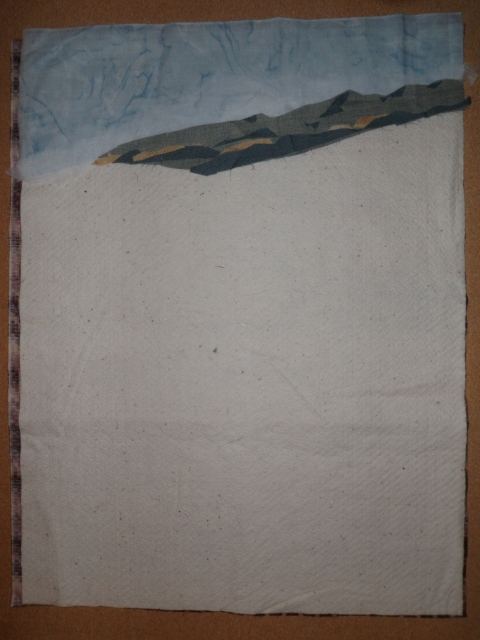 Step 3
Next comes the distant background. Everything is collaged on a flat surface, with no glue or pins. I cut the pieces freehand and arrange them to suit me. Pieces can be moved around, cut smaller or made bigger as necessary.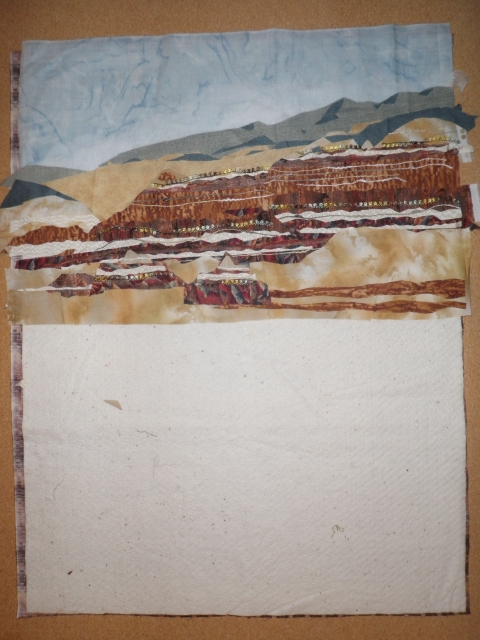 Step 4
Here I have worked partway into the middle ground, continuing to layer freehand-cut fabrics and novelty trims as I work my way down.I don't worry about anything looking perfect…this is a pretty loose impression.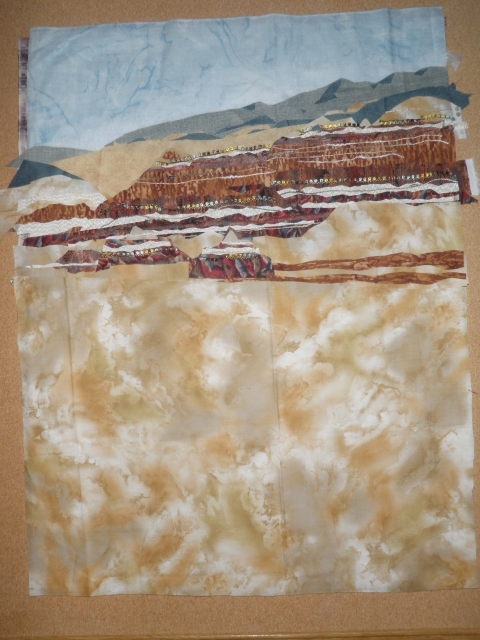 Step 5
Now I have a basic background color laid in for the foreground.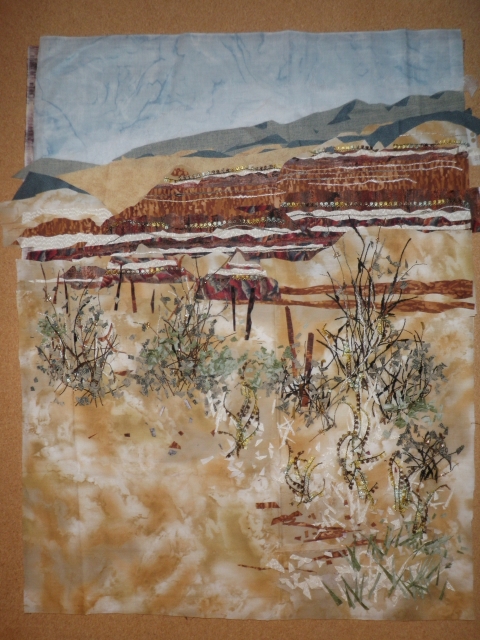 Step 6
I've cut little snippets of a bunch of sage green fabrics to sprinkle around for sagebrush, with some black threads and novelty trims for the stems and branches. Still no pins or glue. I've also created a line of worn-out fenceposts, each one from a different fabric to give the impression of the weathering process.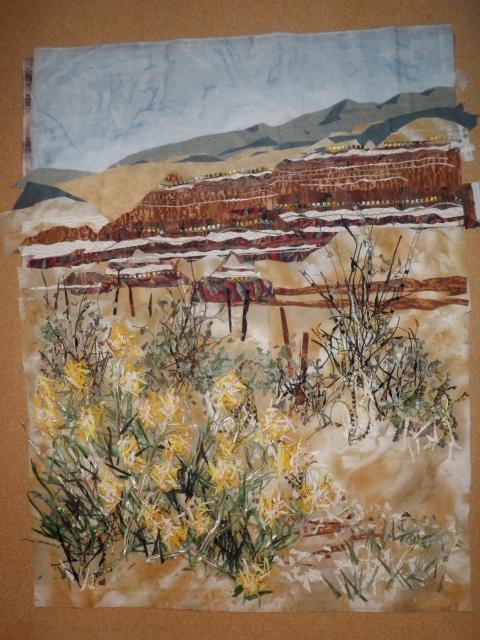 Step 7
Here there are more foreground details, all done very loosely and quickly, with snippets of fabric and novelty trims.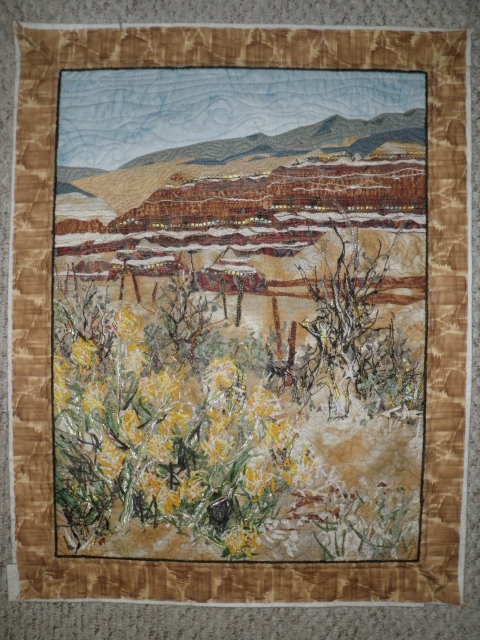 Step 8
Now the quilt has a layer of transparent tulle over it, which was pinned very densely with small straight pins. I then freehand machine quilted through all of the layers to accentuate the details of the sky, rocks and bushes. I added a beige border after completing the quilting and trimming the piece, and then quilted the border.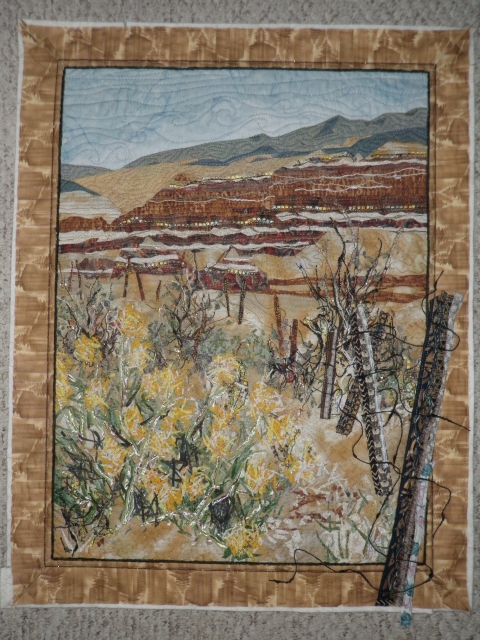 Step 9
The piece is almost done here. Once the border was quilted, I added some foreground fenceposts spilling out of the frame to accentuate the perspective of the fence line disappearing into the distance. When that was done I trimmed the quilt again and added a binding.